R E P A I R   P R O C E S S  M A D E  E A S Y !
WELCOME TO TECHNOMOBI REPAIRS
R E P A I R   P R O C E S S  M A D E  E A S Y !
WELCOME TO TECHNOMOBI REPAIRS
Purchase your repair
Every repair includes assessment, collection and delivery fees to and from our offices. Ensure that you choose the correct device which needs to be repaired.
We arrange collection
Our customer service agent will contact you to arrange collection of your damaged device at a convenient time to suite you.
The collection
Please ensure you wrap your device in bubble wrap or something to protect it and seal it in a cardboard box before handing it over to the courier. We cannot take responsibility for your device being damaged in transit.
Book in and status updates
You will receive a book in confirmation once your device arrives at our offices. Your device will be assessed and you will receive status updates on your repair.
Repair complete
Once your device's repair is complete, you will receive notification and we will courier your newly repaired device back to your shipping address.
IMPORTANT INFO
In the event of your device requiring a repair greater than the repair you selected and purchased, an agent will contact you to discuss further options.*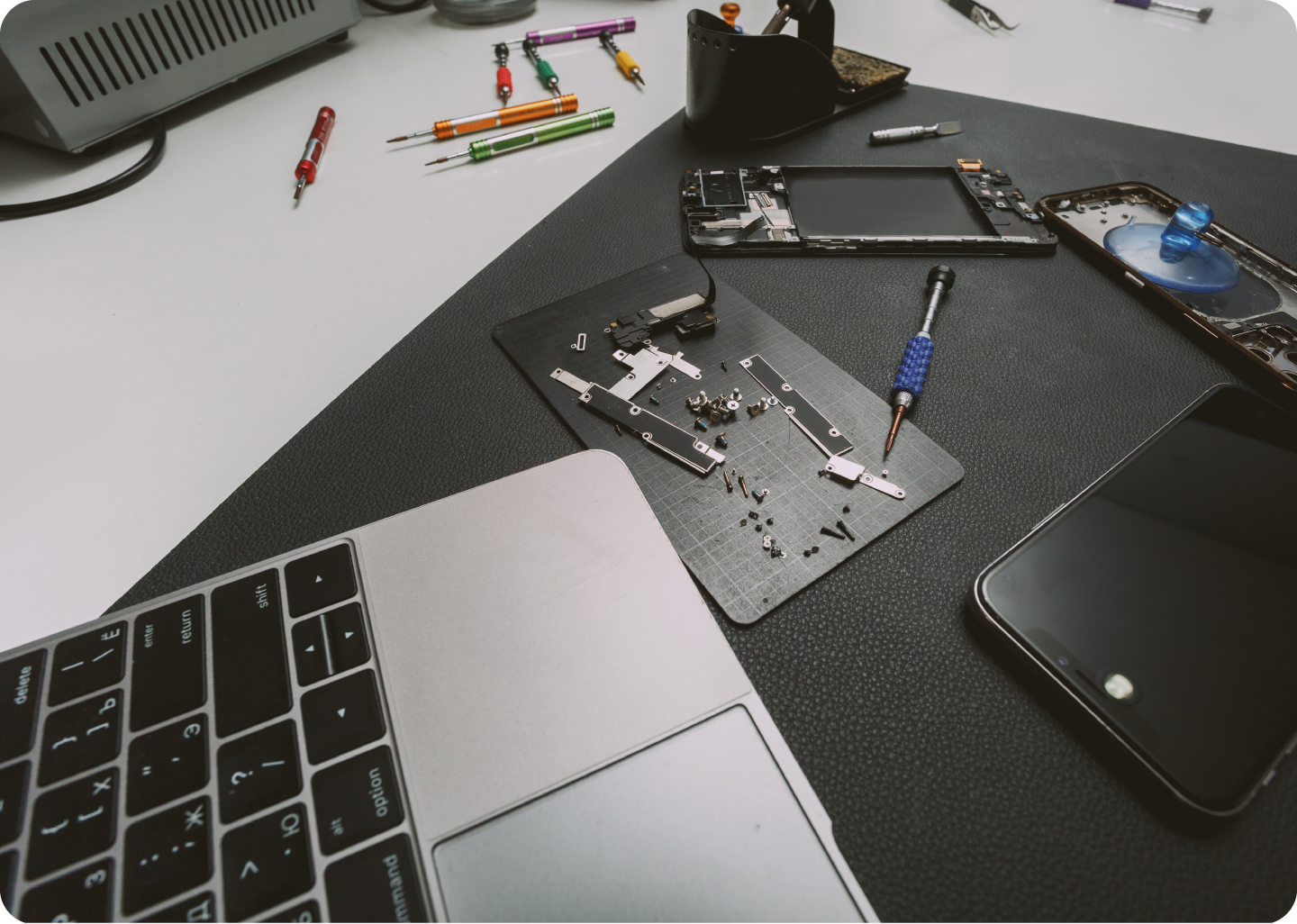 Our Story
Taking everything online!
With over 25 years of experience in the Retail Mobile Industry (Vodacom) and 5 years in the tech e-commerce industry, our goal is to become the largest one stop online tech service company in SA.
How you ask? Well by taking all our experience and offering it to you online!
From offering you Tech products and accessories to almost anything relating to cellular, why not repair as well? We already do it, so now online. Bringing you convenience… Click Click, FIXED!
We have partnered up with Proper Repairs as our repair service provider. When it comes to specialists in the Repair business they are the Gurus. (We are in the same building, thus hand to hand repairs)
Their experience proceeds most, specialising in repairs and servicing of smart devices. All their workshops are fully equipped and ESD compliant. All technicians are fully trained on all repairs.
Do you need a repair? Do it the Proper way!
LOOKING

FOR A DIFFERENT REPAIR?
Have a different device or repair you are looking for, let us quote you!
All repair quotations are valid for 7 days from day sent.
SHOP

 

CERTIFIED APPLE DEVICES
Own an iPhone for less!