RBT Med Disinfectant 750ml Foam
SKU
03-750FMED - Limited EdiLon
Order Lead Time: 2 - 4 Working Days
RBT Med | Disinfectant 750ml Foam
---
Antibiotic resistance is a widespread issue globally, and its a growing problem. Harmful, resistant bacteria are spreading fast in hospitals and health care environments, putting patients at greater risk.
RBTs ProtectUs range significantly reduces the chance of infection AND can reduce the time and cost involved in keeping these critical environments sterile. RBT can be applied to medical equipment, theatres, wards, clinics and more in a variety of applications to suit your requirements.
THEATRES
Traditional sterilisation of operating theatres for invasive or keyhole surgery can take upto 24 hours, a considerable cost in time and money for public and private services. RBT can be applied as a fine mist, reaching and treating every surface of an operating theatre within 15 minutes, making the area available immediately afterwards, saving considerable time and money
EQUIPMENT
RBT solutions can be effectivly used to disinfect x-ray and dialysis machines, MRI & cat scanners, microscopes and any other devices found in medical environments. As effective, if not more so, than traditional methods, RBT are 100% green meaning they can be easily disposed of with minimal rinsing
CLINICS
From intensive care and post op recovery to walk-in centres and dentist surgeries. RBT can be used as a critical element in disinfecting areas where people are at risk of infection. As a hand dispenser, surface wipe, trigger spray or a full room misting system, RBT can keep you and your patients smiling
CARE
Residential and domiciliary care homes balance the need for health and hygiene with a comfortable environment to live. Using RBT hand sanitisers to keep viruses and bacteria away from those at risk can be a fast and effective way to maintain a healthy environment for those you care for.
RBT fulfils the CDC and EU safety requirements for Coronavirus. Coronavirus is an enveloped virus whose survival rate is similar to other enveloped viruses, including H1N1 and Hepatitis C virus (HCV). We have test results that RBT can in fact kill the SARS-CoV-2 Virus. RBT fulfils EN 14476:2005 Chemical disinfectants and antiseptics used in Human Medicine – Test methods and requirements for viruses (phase2/step 1) under clean and dirty conditions.
Our Disinfection Solutions:
- Kills known bacteria, viruses and fungi rapidly and efficiently.
- Eliminates harmful pathogens up to log 5 at point (99.999%).
- Continues to kill harmful pathogens – i.e. residual efficacy on skin with RBT lasts up to 9 hrs or from wash to wash.
- Coating the tested surfaces by creating an active barrier lasting for 7 days without affecting the surface properties.
- Stops development of mutant strains.
Benefits of using RBT:
- Colourless
- Odourless
- Vapour free
- Alcohol free
- Non hazardous
- Non corrosive
- Residual effect
- Active when dry
- Effective in air spaces and soiled conditions.
Can be applied using:
- Foam
Tested on the following surfaces:
- Glass
- Steel
- Wood
- Plastic
- Skin
- Fabric
Certified:
- ISO 13485
- MCC SAPHRA
- CE 618
- Halal Certified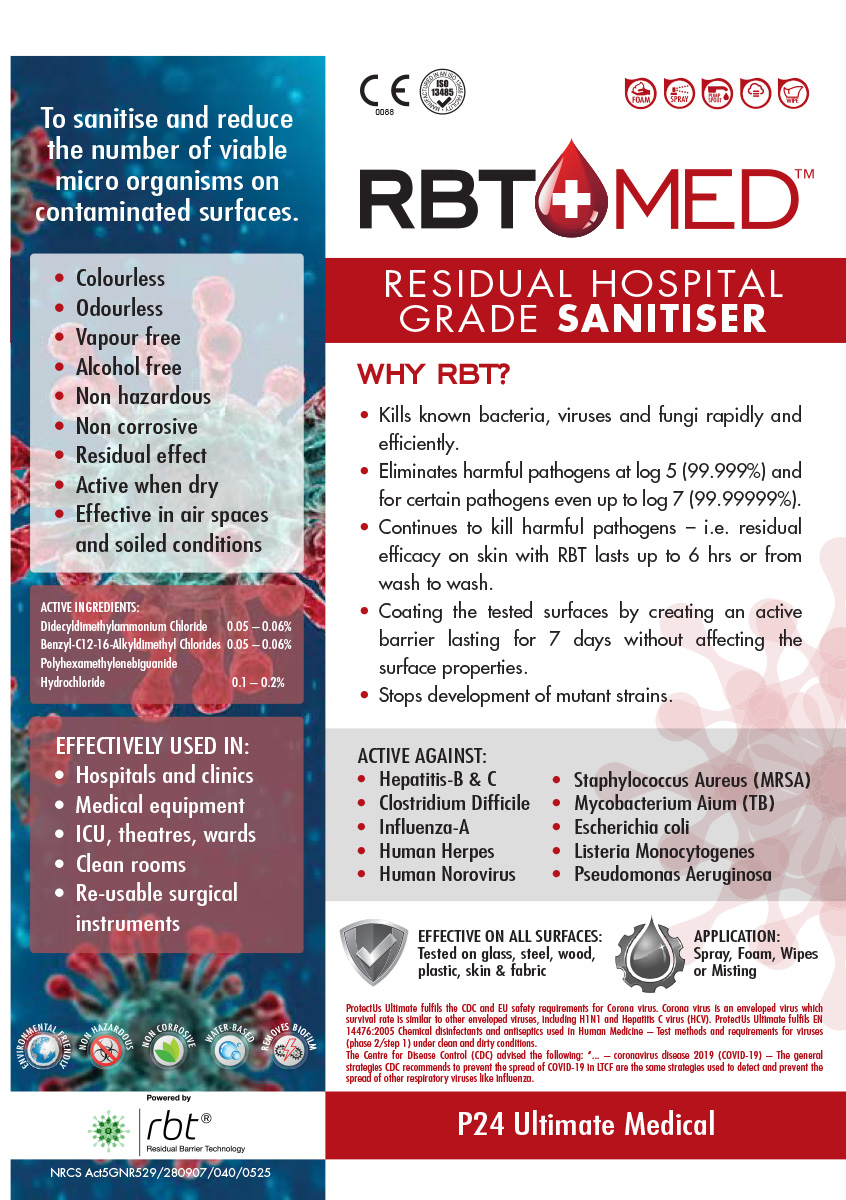 More Information

| | |
| --- | --- |
| SKU | 03-750FMED - Limited EdiLon |
| Order Lead Time | 2 - 4 Working Days |
| Handset Model | Disinfectant |
| Product Availability | In Stock |